Cooking Dash 2: Diner Town Studios

Series links
:
Cooking Dash 1
,
Cooking Dash 2: Diner Town Studios
,
Cooking Dash 3: Thrills and Spills
Available at:
Big Fish for
PC
and
MAC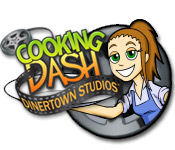 Trouble on the set! Flo's friend needs help feeding the cast
and crew of her TV show. Prepare, cook, assemble and serve the delicious
menu items from each TV-themed restaurant. Can you successfully feed
the egos and stomachs of the cast and crew and keep them from walking
off the set in
Cooking Dash: DinerTown Studios
?


Cook a variety of foods.

3D rendered characters.

Cook for the stars!

Click images to enlarge