Surface: Alone in the Dark
by Elephant Games - June, 2015
Series links
:
Surface 1: Mystery of Another World
,
Surface 2: The Noise She Couldn't Make
,
Surface 3: The Soaring City
,
Surface 4: The Pantheon
,
Surface 5: Reel Life
,
Surface 6: Game of Gods
,
Surface 7: Alone in the Mist
,
Surface 8: Return to Another World
,
Surface 9: Lost Tales
,
Surface 10: Virtual Detective
,
Surface 11: Strings of Fate
Available at:
Big Fish as
Collector's Edition
/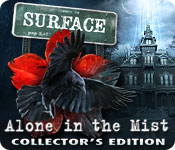 All the adults have vanished. Is it a child's dream, or nightmare? You wake on the morning of your birthday to find that things aren't at all the way you pictured for your sweet 16. Can you find out what's happened overnight to turn your world upside down? From
Elephant Games
comes the continuation of the popular and edgy Surface series. Unlock the Secret Room, where you'll find more hidden-object and mini-game play. But be careful what you wish for...


Discover your town's secrets in the bonus game

Collect flowers to unlock characters

Earn special achievements

Get the available Strategy Guide

Enjoy soundtracks, wallpaper, and concept art