Create a Cat Haven from Ikea Shelves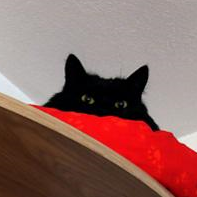 The climbing trees at pet stores are ridiculously expensive and take up tons of floor space.
Help your kitty jump to a royal view, Super-Mario-style, without cluttering your floor or wasting money.
ModernCat showcased a pretty nifty climbing wall designed by one of the blog's readers.
The kitty roost is made from a combination of Ikea products: shelving brackets, small shelves, and wool carpet swaths.
With some smart shopping, though, you could buy similar materials just about anywhere.
By using the wall itself as the primary support for the cat's climbing space, you avoid the big footprint of a commercial climbing tree.
Inexpensive construction aside, the best part about using the wall for support is you can create a roost as high as your ceilings allow.
I know a certain cat at my house that would be thrilled to have a 15 foot tall perch in my office, well above children's poking fingers.
For more pictures and links to the various parts, take a peek at the link below.
If you have your own creative pet related project, we'd love to hear about it!
Ikea Climbing Wall
[ModernCat]