Midnight Mysteries: Ghostwriting
by Game Forest - January, 2014
Series links
:
Midnight Mysteries 1: The Edgar Allan Poe Conspiracy
.
Midnight Mysteries 2: Salem Witch Trials
,
Midnight Mysteries 3: Devil on the Mississippi
,
Midnight Mysteries 4: Haunted Houdini Deluxe
,
Midnight Mysteries 5: Witches of Abraham
,
Midnight Mysteries 6: Ghostwriting
Available at:
Big Fish as Collector's Edition /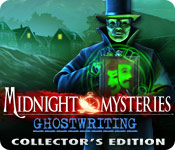 You're no stranger to paranormal visitors showing up at Midnight, but when a suspicious character drops a threat in your mailbox, you're drawn into the timeless struggle of good versus evil. The fictional characters of classical literature are coming to life, and not all of them are happy with the way their stories ended! Use books to travel through space and time, as you join Charles Dickens and Washington Irving on an exciting adventure through their most famous books. Can you unmask the villain in time, or will the world's most beloved classical literature be rewritten?
The Collector's Edition includes:


Shepherd's Monument mystery in the bonus adventure

Achievement awards for your excellent game play

Bonus extras including concept art, cutscenes and wallpaper

An available Strategy Guide

Click images to enlarge