Grim Tales: Color of Fright
by Elephant Games - November, 2014
Series links
:  
Grim Tales 1: The Bride
,
Grim Tales 2: The Legacy
,
Grim Tales 3: The Wishes
,
Grim Tales 4: The Stone Queen
,
Grim Tales 5: Bloody Mary
,
Grim Tales 6: The Vengeance
,
Grim Tales 7: Color of Fright
,
Grim Tales 8: The Final Suspect
,
Grim Tales 9: Threads of Destiny
,
Grim Tales 10: The Heir
,
Grim Tales 11: Crimson Hollow
,
Grim Tales 12: Graywitch
,
Grim Tales 13: The White Lady
Available at:
Big Fish as
Collector's Edition
/
Standard Edition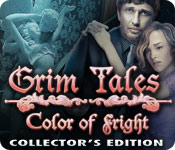 It wasn't bad enough that your train was running late, but now a mysterious note warns that this Gray family dinner will be the last! Inside the Gray family castle, everything is in chaos, with your family nowhere to be found. The walls are graffitied with the scribbles of a madman as his laughter echoes through the halls. Armed with a magical paint set, you are the only one who can save them. Reunite with previous Grim Tales characters, including Luisa, Elizabeth, James McGray, and even your niece, Jackie! Can you unmask the kidnapper and beat him at his own game? Find out in this mysterious Hidden Object Puzzle Adventure game!
The Collector's Edition includes:


Can the past be rewritten? Play the bonus chapter to find out

Score soundtracks, screen-savers, and concept art

Check out your achievements and collections

An available Strategy Guide

For the Standard Edition
Click images to enlarge