PuppetShow: Lightning Strikes
by ERS Game Studios - August, 2014
Series links
:  
PuppetShow 1: Mystery of Joyville
,
PuppetShow 2: Souls of the Innocent
,
PuppetShow 3: Lost Town
,
PuppetShow 4: Return to Joyville
,
PuppetShow 5: Destiny Undone
,
PuppetShow 6: Lightning Strikes
,
PuppetShow 7: The Price of Immortality
,
PuppetShow 8: The Face of Humanity
,
PuppetShow 9: Her Cruel Collection
,
PuppetShow 10: Bloody Rosie
,
Puppet Show 11: Arrogance Effect
Available at:
Big Fish as
Collector's Edition
/
Standard Edition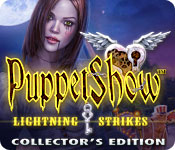 You have been called to Paris to investigate a string of mysterious abductions. Several women vanished recently after being struck by mysterious lightning bolts. What's more, it appears the women are being turned into... puppets! But just who is behind the crimes, what do they want, and how does it all work? To find out, you'll need to explore the streets of Paris, solving tricky puzzles and uncovering hidden clues. Just remember to keep your wits about you... Not everything is as it seems in this thrilling Hidden Objects Puzzle Adventure game.
The Collector's Edition includes:


Collectible coins and landmark restoration mini-game

Bonus chapter featuring a thrilling epilogue!

Replay mini-games, hidden object puzzles, and videos

Concept Art, Wallpapers, Screensavers and Soundtrack

For the Standard Edition
Click images to enlarge

_

_

Last edited by genkicoll on Sat Jul 22, 2017 3:26 pm; edited 3 times in total