Pirate Solitaire
by 8FloorGames
Available at:
GameHouse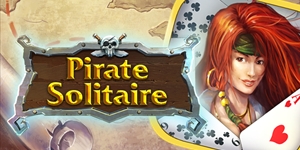 Follow the map to the treasure. Overcome obstacles and cleverly choose which cards to play in Pirate Solitaire, an entertaining and raucous version of solitaire that will have you hooked in no time with gold coins and dazzling booty.
A pair of shipwrecked pirates lost in the Caribbean sent home a map in a bottle. Use the map to follow the trail of treasure chests and grow your collection of gems. To access the chests, you must be clever keen with your solitaire moves.


Play more than 100 levels of varying difficulty.

Overcome challenging obstacles.

Collect gold coins.

Open treasure chests to collect special gems.