Queen's Quest: Tower of Darkness
by Brave Giant - June, 2014
Available at:
Big Fish as Standard Edition only
GameHouse as Platinum Edition / Standard Edition
iWin as Platinum Edition / Standard Edition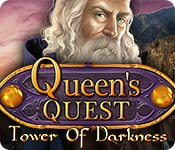 This is a fairy tale that begins…at the end! You know – the part that says "…and they lived happily ever after!"? Well, so they did – but not exactly for "ever after"! Because very soon after prince married his beautiful princess, they learned that future dreams cannot be built to last on the sins from their past. Demons still lurk there, and it will take more than love, and even more than courage, to save this family from the evil power. This young princess will quickly need to become a powerful and determined queen in order to protect her kingdom – and the ones she loves the most!


Find over 40 hidden collectibles

Bonus chapter and content

Explore beautifully drawn locations

Earn challenging achievements

Click images to enlarge



Last edited by genkicoll on Tue Oct 07, 2014 3:57 pm; edited 6 times in total