Lili: Child of Geos
by BitMonster, Inc - May, 2014
Available at:
GOG Wishlist
Steam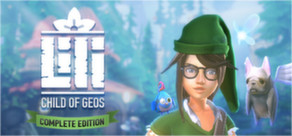 Lili is a quirky adventure RPG hybrid with stunning visuals, silky-smooth graphics, a cinematic story-line, and a fresh new way to deal with enemies.
On the mysterious island of Geos, Lili will meet a number of hilarious locals, explore beautiful environments, solve some puzzles, and even challenge an oppressive regime or two along her way.
If you've enjoyed Zelda, Broken Age, or Psychonauts come on an adventure with Lili! And if you have never played any of those games, come with us on a journey which will make your sides ache with laughter, where you will get to know and love Lili, and maybe even shed a tear or two.


Open and flexible gameplay - Lili: Child of Geos sports a huge number of quests and adventures for the player to experience. The player is free to mix and match and advance by fighting spirits or completing quests, or anything in between.

Collectible Hats - Hidden throughout the game are a multitude of fun and exciting hats to collect and wear. Can you find them all?

45 unique NPCs - Every area of Geos has unique NPCs to interact with and talk to! And believe us, they all have A LOT of problems for Lili to help solve.

Visually Stunning World - Lili takes place on the beautiful and whimsical island of Geos. It takes full advantage of the ample power available in the modern gaming PC. We lovingly call it the tour de force for UnrealEngine 3.

Steam Achievements - 47 achievements to acquire!

Steam Leaderboards - Every single Spirit in the game has its own leaderboard. Can you beat your friends' scores?

Lili as it was meant to be - Lili started its life as a game for iPhones and iPads. We've since taken that game as a starting point and run with it. Improvements include a long list of bug fixes, completely redone UI, updated and improved visuals across the whole game, more than doubled the number of NPCs in the world, and tripled the number of quests.

Optimized for Low End Devices - Even with all of the features of Unreal Engine 3, we have settings that allow Lili to run on Low End Machines. And by low end we mean LOW END aka a 6 year old laptop running windows XP. Lili runs and looks awesome.

Choices Abound - Most of us have over 40 hours of playing Lili on Steam. That is 40 hours of just doing play throughs to test the game. And after those 40 hours, we still love playing. Our daily play through is one of the best parts of our day!