Fantasy Mosaics 2
by Matchgems - March, 2014
Series links
: 
Fantasy Mosaics
,
Fantasy Mosaics 2
,
Fantasy Mosaics 3: Distant Worlds
,
Fantasy Mosaics 4: Art of Color
,
Fantasy Mosaics 5
Available at:
Big Fish
GameHouse
iWin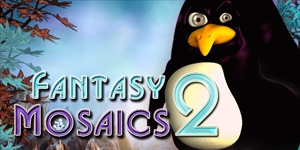 Continue on your journey to a magical fantasy land while solving 100 brand new custom built puzzles. Discover intricately woven fantasy images in breathtaking locations. Enjoy innovative features that will enhance both the gameplay and the fun you'll have playing. Embrace the mosaic challenge and restore your lush fantasy garden!
Features:
-100 custom built puzzles
-Breathtaking locations
-A unique fantasy atmosphere
-Restore your fantasy garden!
Click images to enlarge

_

_

Last edited by genkicoll on Sat Nov 29, 2014 9:04 pm; edited 5 times in total