Art Mahjongg Egypt
by Magnussoft - March, 2014
Available at:
GameHouse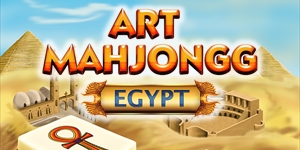 Take a mystical journey through ancient sites and magical portals of Egypt while you play the classic game of mahjong. Adventure and the discovery hidden worlds provide hours of entertainment as you clear the boards of matching tiles.
In Campaign Mode, follow the path of a story from point to point, discovering the magic of veiled worlds. Explore historical sites like the Sphinx and the pyramids. Wind your way along the Nile and enter secret areas where imagination takes flight. In Freeplay Mode, take a relaxed approach to the game and play special variants called Flight of Horus and Pharoahs Mahjong.


Play 90 levels in Campaign Mode.

Discover hidden worlds.

Enjoy a relaxing game experience in Freeplay Mode.