Trinity over at The Pub posted a topic, "
If you were having a dinner party
," asking
If you were having a dinner party and could invite up to 5 characters from computers games, who would you invite and why?
I'm absolutely going to go answer Trin's question over at The Pub, but since we're on the subject... it got me to thinking, "Which characters are my favorites?  Which are other people's favorites?"  I have trouble remember game characters, and if we have a thread here, maybe I'll remember to mention them when I'm playing the games!
SO, some of my favorite game characters, and what I like about them:
Mona De Lafitte from A Vampyre Story
:
LOVE the quirky design, and while Mona is naive and quite the airhead, she is certainly entertaining!
Benny from Dreamscapes

My favorite gaming sidekick!  He's adorable, unpredictable, and may bite your hand off at any time!  Gotta love his edge!
Dahlia from Charlaine Harris: Dying for Daylight
She's a bit too fashion-oriented for my tastes, but she has REAL personality, and her kick-ass attitude can't be beat!
C. Auguste Dupin from the Dark Tales: EAP
series

What's not to like?  Tall, dark, handsome, intelligent, and highly moral.  I actually think he'd be a great match for Dahlia, BUT would instead pair him up with:
Erica Reed
from the
Cognition
series
I've only played the first chapter of this four-part series, so if a love interest shows up later, don't tell me!  I think that Dupin would be a calming influence on her tortured heart, they share a profession, and he's certainly something to look at!  For her part, Erica is a dedicated detective, and those she loves, she cares for deeply.  Add in her psychic powers and you have a fascinating character.
The
Ghost in the Sheet
His dry, tongue-in-cheek humor that absolutely cracks me up.  I'll be giving the game another try despite the somewhat-clunky interface and difficulty factor.  SO funny!
Peppita Rosetti from Star Ocean: Till the End of Time
(PS2 game)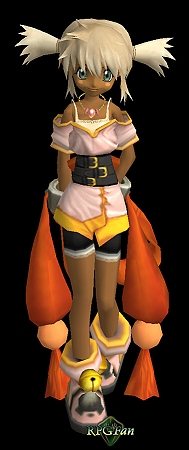 I loooove Peppita, she's my favorite character, right behind Cliff.  Why do I love her?  Let me count the ways!  She's absolutely adorable, sweet as can be, incredibly talented... and doesn't take any crap.  She's one of the best fighters in the game, and when I get the chance, I add her to my party every time
Sarah Meiville from The Gift
Another psychic detective?  You bet!  I admire her courage, dedication, morals, and of course, her gift.
Lilly from Lilly Looking Through

You gotta love Lilly!  Adventurous and brave, she's going to do what it takes to save her brother!  She's also cute, which doesn't hurt
The critters from Botanicula
They're cute, inventive, and work great as a team.
The robot from Machinarium
Cute?  Again?  Yep!  Sometimes cute works, and this is another of those cases.
Hari from the Tiger Eye
games

Mmmm... I think I'll just keep this one for myself.  Strong, dedicated, and an incredibly good person, he can sit right here next to me