Myths Of The World: Spirit Wolf
by Eipix Entertainment - January, 2014
Series links
:  
Myths of the World 1: Chinese Healer
,
Myths of the World 2: Stolen Spring
,
Myths Of The World 3: Spirit Wolf
,
Myths of the World 4: Of Fiends and Fairies
Available at:
Big Fish as
Collector's Edition
/
Standard Edition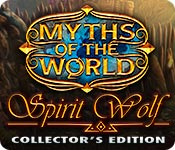 The wolf spirit still haunts… will you heed its call?
You're an expert in Native American symbolism who's been called to investigate some glowing glyphs. Your amulet, which has been in your family for generations, begins to glow as soon as you arrive, as if it's part of this place…
As you begin to investigate, you encounter strange ghosts from the past. Find out what caused their rift all those generations ago and how you're connected to this place and its spirit.
The Collector's Edition includes:


Break the symbol barriers using your interactive amulet

Play the bonus game to unlock your amulet's secrets

Get soundtracks, wallpapers, screensavers, and concept art

Try the available Strategy Guide

For the Standard Edition
Click images to enlarge

_

_