Alice: Behind the Mirror
by Anuman Interactive - January, 2014
Available at:
Big Fish
GameHouse
iWin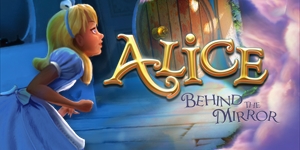 The Jabberwocky has awakened and Wonderland is topsy turvy. The Cheshire Cat has summoned Alice to restore the peace and harmony in Alice Behind the Mirror, a curiously clever hidden object adventure.
As Alice, you must save the crazy, madcap world of Wonderland from the ordered and rational reign of the menacing Jabberwocky. Avoid the pitfalls of familiar and challenging characters, like the Queen of Hearts. Gain the help of the more cordial characters, like the White Rabbit and Humpty Dumpty.


Enjoy a spectacular adventure in Wonderland as Alice.

Explore the most emblematic places from Lewis Carroll's renowned tale.

Find clues and solve puzzles on your quest to overthrow the Jabberwocky.

Rediscover legendary characters such as the White Rabbit, the Queen of Hearts, and the Cheshire Cat.

Click images to enlarge
_

_

Last edited by genkicoll on Tue Aug 19, 2014 11:41 am; edited 1 time in total