Fairy Tale Mysteries: The Beanstalk
by Gogii Games - October, 2013
Series links
:
Fairy Tale Mysteries 1: The Puppet Thief
,
Fairy Tale Mysteries 2: The Beanstalk
Available at:
Big Fish as
Collector's Edition
/
Standard Edition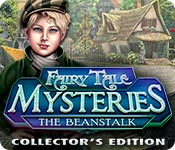 These are no ordinary beans! As a recently graduated investigator from the Grimm Brothers Institute, you must use all your wits - and your magic - to survive. Ascend the beanstalk to battle the mighty rampaging giant and protect the world from destruction. Find your way through the flower world, moon world, and more with the help from the elemental guardians, protectors of their realms. Revel in both full-scene hidden object quests as well as gorgeous conventional hidden object scenes. Defeat the giant in his castle to claim your reward and save the planet!
The Collector's Edition includes:


12 additional scenes where you get to challenge the Giant!

Two Groups of Hidden Collectable items in every scene

Enjoy the game's music through the Music Gallery

The Video Gallery allows you to re-watch cutscenes and movies

For the Standard Edition
Click images to enlarge

_

_