I have not had a pet in my home for many years now, but I enjoy them vicariously through family members.
My sis took in a sweet, orange kitty that had been abused by local children.  He was starving, had been beaten, then thrown up on the roof of a family friend.  She just had to bring him home.
Having been a stray, he would eat anything he could, whenever he could get it, and of course became overweight.  Is it any wonder that they named him Garfield?
When I met him, he was a real sweetheart, but I noticed a lump on his left side while I was petting him.  He ended up going in for a hernia surgery, which had been caused by the kids who'd abused him.  What no one knew is that Garfield had been beaten so badly that he'd broken three ribs, and had been living with pneumonia the entire time sis had had him.  Even the vet didn't know until Garfield started having breathing problems after his surgery :(
After rounds and rounds of antibiotics, water pills, and massive struggles on his part, Garfield lost his life a couple of weeks ago.  Sadly, his abuse goes unpunished, as we don't know who the kids are.
Rest in Peace, Garfield
There IS an upside to this story!
Yesterday, sis's son went out in the country to an old farmhouse to adopt a new kitten, also orange.  Tigger is bright, inquisitive, and loving -- just what the family needed.  Very cute, too!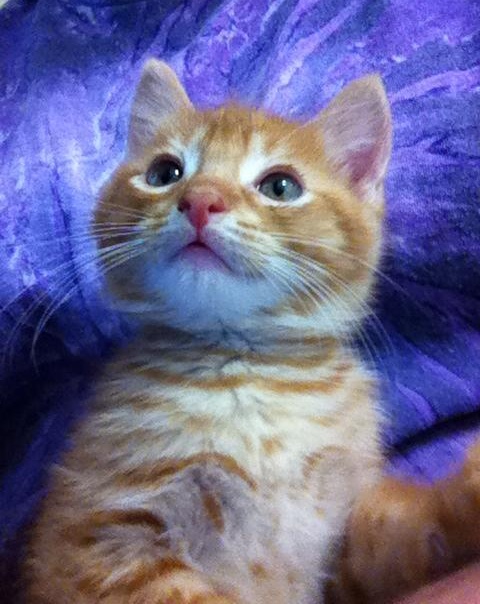 Last edited by genkicoll on Sat Oct 05, 2013 8:37 pm; edited 2 times in total