The Happy Hereafter
by Alawar / Mirball Games - October, 2013
Available at:
Alawar
Big Fish
GameHouse
GamersGate
iWin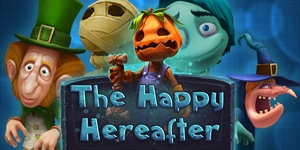 Create a little slice of Heaven in the underworld and guide the newly dead in building a happy afterlife for themselves and their fellow lost souls. This world will blow your mind and make you chuckle with an array of zany characters and unique missions.
Explore the weird and wonderful landscapes. Unlock cleverly hidden secrets, and complete a slew of challenging tasks and assignments. More newly dead souls are arriving all the time and each has unique demands. Help them settle in to their eternal destination. Put them to work building houses, harvesting resources, and earning money.


Explore the weird and wonderful landscapes of the underworld.

Accomplish over 100 missions.

Meet and manage a myriad of wacky characters.

Enjoy comic book style story scenes.

Click images to enlarge

_

_

Last edited by genkicoll on Thu Dec 05, 2013 10:56 am; edited 4 times in total