Antique Road Trip: American Dreamin'
by Boomzap - September, 2013
Available at:
Big Fish as "
Free-to-Play
"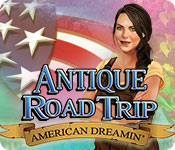 Beechwood Cove is a small town populated by shopkeepers, craftsmen, and antique enthusiasts. Over the years, people lost interest in the town, until the shops themselves were left forgotten and in disrepair.
Enter James and Grace Anderson, antique shop experts! With their help, you will revive Beechwood Cove's old antique shop and bring business back into town in
Antique Road Trip: American Dreamin'
!
Play this game for free or enhance your experience by purchasing additional gameplay, virtual items, powerups, or other fun extras within the game.


Build the antique shop of your dreams

Find rare items to complete your collection

Global real-time auction house

Click images to enlarge

_

_