Surface: The Pantheon
by Elephant Games - September, 2013
Series links
:
Surface 1: Mystery of Another World
,
Surface 2: The Noise She Couldn't Make
,
Surface 3: The Soaring City
,
Surface 4: The Pantheon
,
Surface 5: Reel Life
,
Surface 6: Game of Gods
,
Surface 7: Alone in the Mist
Available at:
Big Fish as Collector's Edition / Standard Edition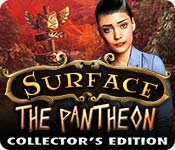 It should have been a tremendous achievement, but the tunnel through the Ridge of Leviathan became the site of a great disaster. What really happened that day? You were supposed to have been on the train with your husband and daughter, but you missed it. And then they disappeared from your life forever.
It's one year later, and a strange man - a scientist who thinks this is just like the Bermuda Triangle and other such vanishings - invites you to take part in his greatest experiment: To recreate the conditions of that fateful day in Surface: The Pantheon!
The Collector's Edition includes:


Collect flowers throughout the game

Unlock puzzles in the Pantheon Treasury

Gorgeous wallpapers and concept art

Bonus soundtracks and screensavers

Integrated Strategy Guide

For the Standard Edition


Walkthrough

Strategy Guide

Click images to enlarge

_

_

Last edited by genkicoll on Sat Jun 20, 2015 3:17 pm; edited 5 times in total