Nancy Drew: The Silent Spy
by Her Interactive - October 22, 2013
Available at:
Her Interactive
Big Fish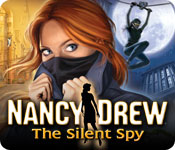 Defuse a Toxic Plot and Reveal the Truth Behind Kate Drew's Death!
Nearly a decade ago Agent Kate Drew left home to neutralize a biochemical weapon in Scotland. While her assignment was a success, Kate died in a car accident. Or so we were told. Now the echoes of a similar plot reverberate and it's up to you, as detective Nancy Drew, to thwart the sleeper cell and expose the truth about your mother's tragic demise.
Only those who pre-order The Silent Spy through Her Interactive will receive the *
Bonus Edition
. The Bonus Edition includes such items as:
●   Play classic mini-games on your cell phone!
●   Find and collect exclusive in-game phone charms!
●   Receive additional texts on your in-game cell phone!
●   Find and listen to an exclusive audio clip in the cabin!
●   Earn a unique in-game award!
Click images to enlarge