I wanted to put this where it could easily be found, so I'm copying the info over from where I originally posted it
________________________________________
ALL game topics here at GGG are alphabetically indexed.  You can find these threads pinned in each section, or you can find the ALL of the links in this thread:
Links to Game Indexes & Other Lists
.  If you don't see a topic for the game you're reviewing, that's OK!  Just go into the appropriate section (Adventure, TM, Match-3, etc) and start a new topic!  I'll come in and add the game info and index the topic later.
1. The first thing you want to do is make a topic called
Links to (your username)'s Game Reviews
  in
THIS
section.  In the white box where you type your reply, just put RESERVED, or something like that.  You'll come back to it later, so maybe open a new tab (on your browser) to do your reviews in.
2. Find the game topic that you want to post in.  You can try typing a bit of the title (ie. Whispers) in the search box and find the game that way, or you can use game indexes.
3. Once you've made your post, copy the URL in the address bar at the top of the page. (If you need to know how, just let me know

  )
4. Go back to the review index you created and hit the
Edit
button.  Type in the name of the game, then paste the link in underneath it.  When you're done, hit the
Save
button.
Here's an example from my list:
The Gift
(IHOG)
http://genkisgamegab.forumotion.com/t1181-the-gift#2321
You don't have to use this specific format, it's just the easiest way I've found.
If you don't have time to add the link(s) to your index (and see that I haven't done it for you,) you can still get the URL, even after someone else has posted in the thread.  Here's how:
Find your review post in (whichever) game thread, then click on the title that shows at the top of your post, right above your name.  I may not be explaining that well, so here's a visual:
Enlarge this image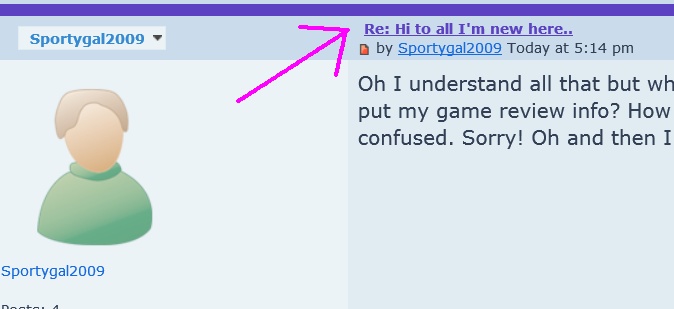 Now the URL at the top of the page is the one that leads directly to your game review, and you can copy it over to your review index!
Everyone is welcome to start their own index!  You can have separate sections (or separate threads!) for games, movie, and/or book reviews!  I really love being able to find my own reviews quickly, and I enjoy going through and reading others' reviews, too, which is why I hope for everyone interested to start their own index
If you don't want me "helping" by adding in links that you haven't had time to add yet, just let me know, and I'll keep my nose out of your thread (except to make use of the links.)