Hide and Secrets 4: The Lost World
by: Anarchy Enterprises
Available from
BFG for
PC
GameHouse
iWin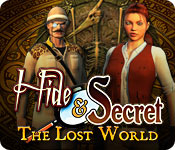 Travel deep into the mysterious jungle of the
Lost World!
The nefarious treasure thief Jacques has kidnapped another damsel, and
it's up to you to stop his evil plans before she is sacrificed at the
spooky full moon ritual. Journey through haunted ruins and diabolical
traps on your quest to find the secret Golden Treasure, and unravel the
mystery of this epic adventure before it's too late in this exciting
Hidden Object Puzzle Adventure game!


Fantastic gameplay

Incredible story

Save a damsel in distress!


Click images to enlarge