Druid Kingdom
by NevoSoft - June, 2013
Available at:
Alawar
Big Fish for
PC
and
Mac
GameHouse
iWin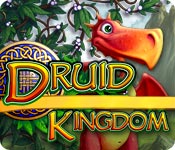 The creators of the groundbreaking My Kingdom for the Princess series, bring you
Druid
Kingdom, a new popular resource management game with a fantastic new plot. Continue honing your skills in this unique genre that combines time management, simulator, and strategy, in four astonishing and colorful fairytale settings!
This game will send you on a magical trip accompanied by new characters: Jack, the young king of the Seven Hills, and his beautiful companion Etain. Your quest for the Staff of the High
Druid
leads you on an incredible journey through the mysterious lands of the Druids, the sands of Babylon, the alchemists' country, and the rocks of Alamut. You will fight against evil desert genies, rebuild the Hanging Gardens of Babylon, save the alchemists' country from destructive dragons, and learn Etain's secret.


Enjoy a whimsical and engaging fantasy plot on a quest through mystical lands.

Work in four different fairy-tale settings.

Play in the environment of beautifully superb graphics and sound.

Challenge yourself with 21 achievements.

A game mechanic that combining the specifics of time management, simulator, and strategy

Click images to enlarge

_

_

Last edited by genkicoll on Thu Jan 09, 2014 10:56 am; edited 1 time in total