Mystery Murders: The Sleeping Palace
by Casual Arts - May, 2013
Series links:
Mystery Murders 1: Jack The Ripper
,
Mystery Murders 2: The Sleeping Palace
Available at:
Big Fish for
PC
GameHouse
iWin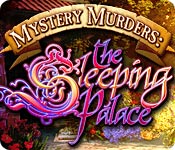 Sophia has awoken trapped in a mysterious bedroom within a strange and beautiful palace. She has no memory of who she is, where she is or how she came to be there. Discover why everyone within the palace has been cast into a magical slumber and uncover the truth behind the mysterious Heart of the Palace. Help Sophia recover her memories, discover her Royal romance and uncover the dark secret behind the Curse of Laroche Palace in
Mystery Murders: The Sleeping Palace
!


Explore a beautiful and exotic palace

Fabulous hidden object scenes

Lavish and ornate locations

Intriguing story of mystery and magic

Click images to enlarge