Mysteries of the Undead: The Cursed Island
by MicroProse - April, 2013
Available at:
Alawar
Big Fish for
PC
GameHouse
iWin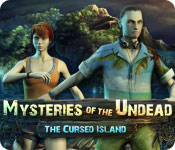 Explore the zombie island and break an ancient curse in
Mysteries of the Undead
! What caused the disaster? Was it a virus or magic? Many years ago a dark blight turned the citizens of a small island into bloodthirsty zombies. A research team from the floating laboratory Perseus is the only one capable of eliminating the threat of an epidemic.


40 different game locations

Unique and eerie setting

Thrilling action story

Exciting and dangerous adventure

Click images to enlarge

_

_

Last edited by genkicoll on Tue Jan 21, 2014 10:51 am; edited 1 time in total