Dark Lore Mysteries: The Hunt for Truth
by Gogii Games - February, 2013
Available at:
Gogii
Big Fish for PC and Mac
GameHouse
iWin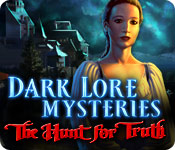 A violent murder has awoken a small town with a troubled past. A town where evil was part of their history and fear was in their daily lives. They thought that chapter was over with. Investigate the murders and track down the killer before evil engulfs the town in
Dark Lore Mysteries: The Hunt for Truth
.


Investigate a string of murders

Solve puzzles crafted to stop you

Catch the killer!

Strategy Guide

Walkthrough (Big Fish)

Click images to enlarge