Dreamscapes: The Sandman
by Shaman Games - January, 2013
Series links
:
Dreamscapes 1: The Sandman
,
Dreamscapes 2: Nightmare's Heir
Available at:
Playrix as
Collector's Edition
Alawar as
Premium Edition
/
Standard Edition
Big Fish for PC as
Standard Edition
(only SE available)
Big Fish for Mac as
Standard Edition
(SE only)
GameHouse as
Platinum Edition
/
Standard Edition
iWin as
Collector's Edition
/
Standard Edition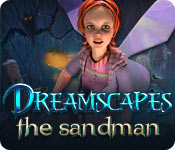 Young Laura was well protected from nightmares once her father gave her the Dreamcatcher. But after his sudden death the Dreamcatcher disappeared and Laura slipped into an endless nightmare. No one could wake her up. But you can try to save Laura! With the help of Professor Sanders and his machine take a dangerous journey to Laura's ghastly dreams, dispel her awes, fight her fears, solve numerous riddles of Laura's subconscious and find clues to her redemption. Collect all the pieces of the lost Dreamcatcher and help the girl return to the real world with this breathtaking point-and-click adventure game!


50 various locations to wander around

Incredible dream worlds to visit

2 game modes to enjoy

Dozens of achievements to get

Astonishing cutscenes in 3D

Collectors Edition extras: 15 additional locations, concept art, wallpapers, screensavers and orignial soundtrack.

Click images to enlarge

_

_

Last edited by genkicoll on Tue Dec 02, 2014 7:42 pm; edited 9 times in total