Aspectus: Rinascimento Chronicles
by DGform - March, 2011
Available at:
Big Fish for
PC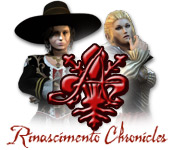 Help Mr. Bruesen create the Aspectus, the perfect painting, before the Destroyers of the Art come to wreck the city! Travel to the Netherlands in the year 1520, and protect the gorgeous city before the enemy infects the precious artwork. Destroy the evildoers and create an incredible masterpiece at the same time in this incredible and exciting Adventure game!


Fantastic gameplay

Incredible action

Create the perfect painting!

Blog Walkthrough (Big Fish)

Click images to enlarge



~~~~~~~~~~~~~~~~~~~~~~
I was curious. I just finished playing this game by
DG Form and was wondering if anyone knew more about
these devs and if they made any more games like this
one.
I could not find any info. Thought maybe someone
would know.