Tomorrow, When the War Began
(2010)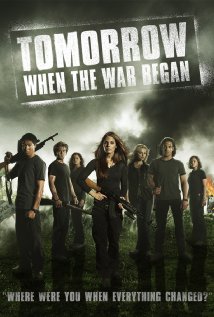 When their country is invaded and their families are taken, eight unlikely high school teenagers band together to fight.
~~~~~~~~~~~~~~~~~~~~~~
This is one I happened upon because it was playing on TV
It's rather like an Aussie-style
Red Dawn
, and is based on the first book in the
Tomorrow
series by John Marsden. No offense to
Red Dawn
(it's a classic, after all!) but I found
Tomorrow, When the War Began
to be much more enjoyable, it was less "Hollywood" and more realistic, something I enjoy.
Despite the serious nature of the subject, the writers injected some humorous moments that really worked with the story. It was interesting to see the development of the characters, and I was happy not to see their abilities glorified in an unrealistic manner.
If you liked
Red Dawn
, I think you'll enjoy this movie.