Downtown Secrets

by: I-Play
Available:
Big Fish
Iwin
Gamehouse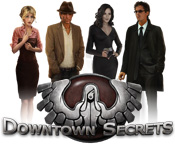 Discover the
Downtown Secrets
! After
mysteriously disappearing for three years, Marie is back in Alex's life
and needs his help! Using her one phone call, Marie begs Alex to
search the scene of a murder and find some documents for her. After
asking Alex to deliver the documents to Andre at The Joint, Marie hangs
up and leaves Alex in the middle of a mystery! Scour Hidden Object
scenes and discover exactly what's going on with Marie in
Downtown Secrets
!


Gorgeous graphics

Exciting storyline

Discover the Downtown Secrets!

Click images to enlarge