Destination: Treasure Island

by: Kheops Studios
Available:
Big Fish
Iwin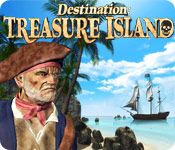 Help
Jim Hawkins find Long John Silver`s hidden treasure! Avoid dangerous
and deadly traps set by the legendary pirate as you race against other
adventurers and discover unimaginable riches! Transport yourself to a
tropical land full of mystery and excitement in
Destination: Treasure Island
, a Large File Adventure game. Can you follow Long John Silver`s clues across the sea and find his incredible loot?


Intense action

Gorgeous graphics

Find the treasure!

Click images to enlarge