Dark Arcana: The Carnival
by Artifex Mundi - October, 2012
Available at:
Alawar as
Collector's Edition
/
Standard Edition
Big Fish for
PC
("Standard Edition" only)
GameHouse as
Premium Edition
/
Standard Edition
Steam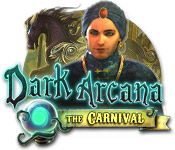 Find the missing woman lost in a mysterious Carnival of Horrors in
Dark Arcana: The Carnival
. Investigate two worlds: the one you know and an alternate plane existing behind the Hall of Mirrors. There you'll discover the secret of an ancient being known as the Evil One. Travel through dimensions, reveal the story of star-crossed lovers, and stop the Evil One from breaking its magical chains and invading our world in this exciting Hidden Object Puzzle Adventure game!


Befriend a cute monkey helper

Clever and unique mini-games

Beautifully designed and crafted worlds

Click images to enlarge



Last edited by genkicoll on Sat Jan 20, 2018 11:11 pm; edited 7 times in total