Judge Dee: The City God Case
by BiP Media / Bigben Interactive - October, 2012
Available at:
Official Game Site
Alawar
Big Fish for
PC
and
Mac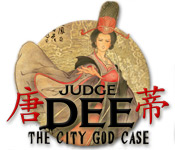 Story
Judge Dee, newly appointed magistrate of the Yiwang prefect, responding to an urgent plea, travels to an isolated town in his new jurisdiction where he finds much unrest.
The town's chief official (Shizhang) was throwing a celebration in honor of his son's birthday which happens to fall on a locally-revered sacred day. Despite many objections from both the township and his advisors, the Shizhang pressed on with the celebration.
But the festivities came to a sudden and violent end when his young son Shen, fell unconscious and became deathly ill for his birthday. From now on, people is brewing taking this as a City God's curse. Judge Dee, not one to fall prey to unfounded superstitions, suspects foul play.
Exploration and observation
Judge Dee – The City God Case
makes it to be immersive. It is possible to move easily/freely in a magnificent City, in the streets, in some apartments or shops and into the nature of this medieval China.
This exotic adventure will make you explore some splendid and faithfully sceneries, in which you will be led to discuss and interact with numbers of characters: shopkeepers, guards, dignitaries, beggars… In the corner of a street you also can challenge the player of Go which will give you some Dragon Points. Dragon points are very helpful to get some advices when you try to solve puzzles.
Your powers of observation and ability for reflection will be severely tested in order to solve the many mysteries that haunt the City.


Forty places to visit

Many hidden object scenes

A wide variety of puzzles to solve (Game of Go, Tangram, Memory, Dou Shou Qi, Jigsaw…)

Accessibility
Judge Dee – The City God Case
wants itself to be accessible to everyone. Three levels of difficulty can be chosen to match any type of player: those who like challenge, intermediate players or those who prefer to concentrate on the story.
The map of the city helps the player to identify where he is and where is his next objective. It is even possible for the player to skip a puzzle considered too much complex to come back to it later. In addition, a tip system can help the player go through some difficult situations especially during hidden object or puzzle phases.
Click images to enlarge