Alchemy Mysteries: Prague Legends
by JetDogs Studio - September, 2012
Available at:
Alawar
Big Fish
GameHouse
iWin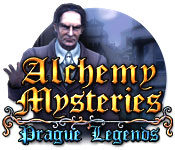 Follow orphan Eva on a trip to mystical Prague in
Alchemy Mysteries: Prague Legends
. After a relative's mysterious death, Eva inherits an ancient house in Prague. Knowing nothing about her past, she goes looking for answers. There she uncovers secrets about the house, her family and an insidious plan of the black alchemist. A wonderful and dangerous adventure is about to begin. Are you ready?


Mysterious atmosphere in old Prague

Alchemy items and secrets to find

Fantastic puzzles to solve

Click images to enlarge

_

_

Last edited by genkicoll on Tue Feb 04, 2014 10:51 am; edited 2 times in total